Beachaven Vineyards & Winery is one of Clarksville's most visited spots. We are open 7 days a week for our patrons. We love meeting people, both local to Clarksville and those traveling through, and hope you include us in your plans.
Come and see us! You can take a tour, purchase a glass of wine or a wine flight to enjoy. Visit our gift shop for fun accessories and unique gift options. We have an outdoor picnic area available and often our weekends in the warmer months are filled with live music and food trucks. It is a perfect stop for the whole family.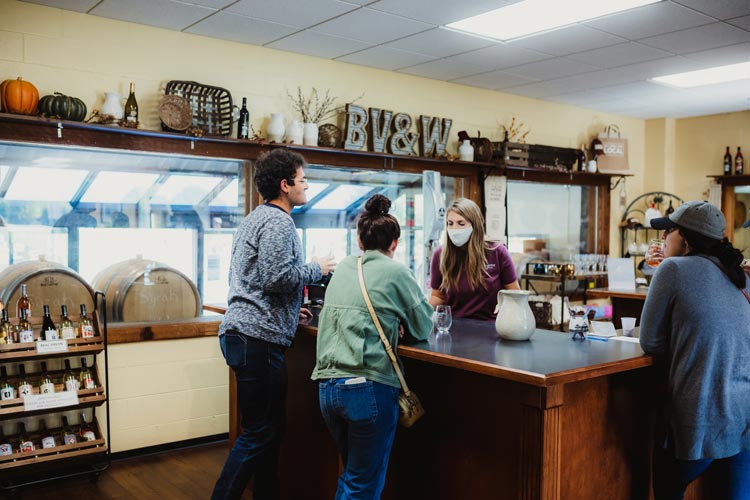 Our Tour and Tasting Experience are offered by appointment at $10/person and includes a tour of the grounds and winemaking facility, and a full wine tasting with one of our employees. Tours do involve walking around both inside and outside on the property and availability may vary depending on weather. Call 931-645-8867 for further questions or to make an appointment for a tour of the property.
We offer wine by the bottle or glass.  If you would like to sample a variety, we offer a Wine Flight or a Wine Tasting.  
Wine Flights are $12 each and include 4, 3 oz samples of the wines of your choice.
Wine tastings are $4/person and include 4 smaller samples and are available daily.  Wine Tastings are served at our tasting bar and are led by a Beachaven staff member.
Our picnic area is a great spot to enjoy a glass of wine or a wine flight. The picnic area is open to the public during business hours and tables are available on a first come, first served basis.
Seasonally on weekends, from May to October, we host live music and local food trucks on the property. It's a fun stop for the whole family! We get lots of questions about what is allowed on the property. Below are answers to a few of our most common questions regarding our picnic area.
Guests are asked not to move the picnic tables.
Guests are welcome to bring chairs, food and non-alcoholic beverages.
No outside alcohol or grills are permitted.
Children are welcome on the property but must remain with an adult at all times.
Only ADA certified animals are allowed on the property and must remain leashed or restrained at all times.
Unfortunately, Beachaven does not offer indoor seating. Standing tables are available in our Glass and Bottling Rooms for guests to enjoy a glass of wine or a wine flight.
Beachaven is a one-stop shopping destination for fun and unique gift ideas. If you are shopping for a new bride, a host or hostess gift, or a gift for a friend or family member, there is something here for you.
Beachaven is also a proud vender of Bogg Bags™,  Swig™, Beachaven logo merchandise and much more! Come see what we have to offer and enjoy a glass of wine!
We also offer curbside pickup and shipping for many of our accessories! You can shop from the comfort of your own home and pickup or we will bring it to your vehicle when you arrive.