About Beachaven Vineyards & Winery
Beachaven Vineyards & Winery has been making award winning wines right here for over 35 years but our family has been making wine in Tennessee with Tennessee grown fruit for over five decades across three generations.
The concept of Beachaven was fostered by William O. Beach. Born and raised in Clarksville, TN, Beach had a successful professional career as a lawyer, Judge and eventually County Executive of Montgomery County. As a wine enthusiast, however, it was only natural to try production for himself. In the late 60s Judge Beach began winemaking as a hobby, even planting his own vineyard. In 1970 Beach entered the Knoxville World's Fair amateur wine making competition winning a gold medal for his champagne and adding fuel to the fire.
In the late 70s Judge Beach's son-in-law Ed Cooke joined Beach in his pursuits. Cooke, a native of Kingsport, Tennessee, believed in the possibilities of Tennessee viticulture, planting his own vineyard. By the early 80s the two had earned enough accolades and support that commercial production seemed attainable. In 1984 Beach and Cooke purchased the land that is now the site of the winery.
Although prohibition had been repealed nationally Tennessee did not have laws allowing for wine production. Judge Beach, along with Faye Wheeler of Stonehouse Winery, lobbied the Tennessee Legislature to advance laws to make wineries in the state legal. Officially licensed in 1986, Beachaven was only the 11th winery in the state. We are now the second oldest winery among a current field quickly approaching 100.
​
The passing of Judge Beach in 1991 was a definite milestone in the history of the winery. At this point Beach's daughter, Louisa Cooke, joined the company in a permanent fashion. Having been involved in every previous step it was only natural that she come on full time in the wake of such a loss. Ed and Louisa drove the winery for the following 30 years.
Beachaven Now
Today, Ed & Louisa's son, Wilson is Operations Manager of the winery. Wilson grew up helping the Judge with his early vintages and working after school and summers at the winery. He worked for several years in the Michigan wine industry as well as a vintage in New Zealand expanding his wine education. He has become the third generation of the family to work in the business.
​
Visit us and learn more about the Beachaven history.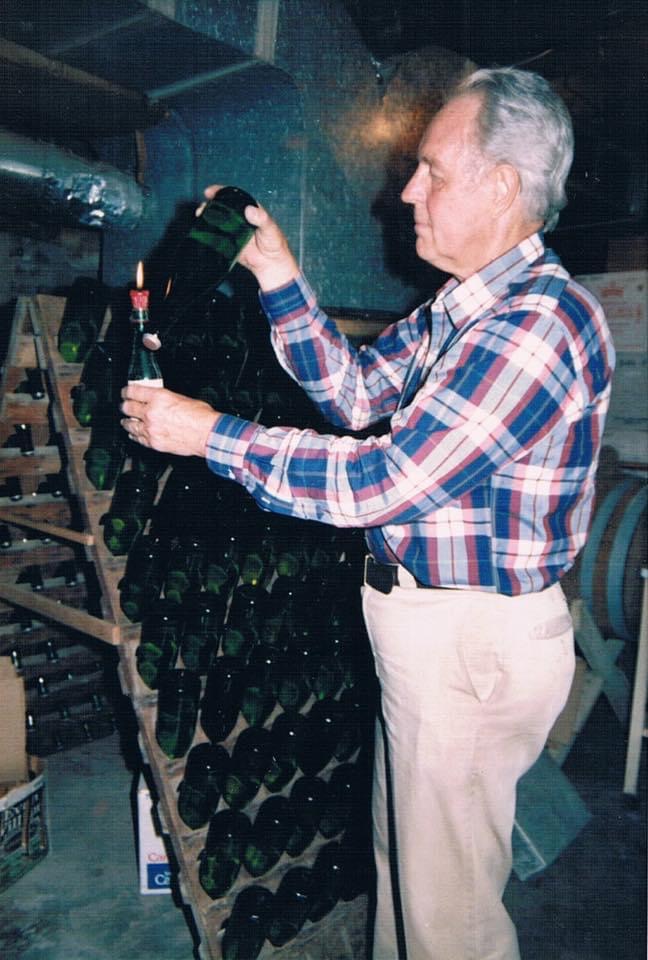 Judge Beach checking the Champagne on the riddling racks in his cellar in Clarksville, TN.